Give Your Child The Confidence To Thrive With Our Leadership Program
In the Karate John's Leadership Program, our number one goal is helping our young leaders learn how to effectively communicate with others and speak in public with NO FEAR.
With the help of high-energy martial arts training, our students build confidence and overcome any fears that have held them back. This ALONE is what separates us as a Martial Arts program.
Give your child the best chance to thrive with effective public speaking skills and pride in everything they do. Fill out the short form on your screen to learn more today!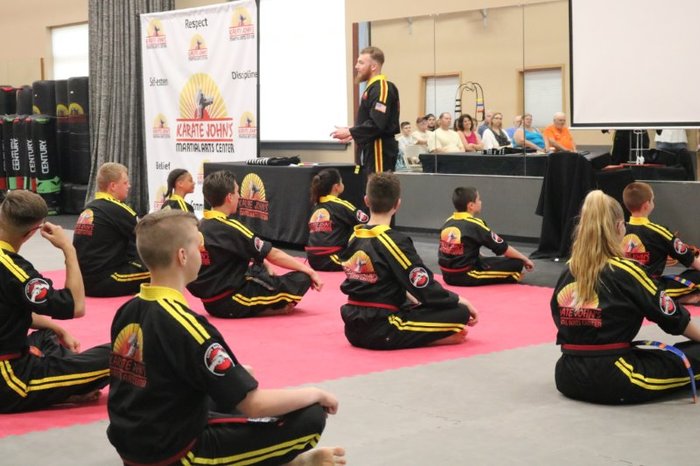 How Does The Leadership Program Work?
Our system of respect and development begins with the instructor. Each class begins by bowing in and out of class and sets the tone for respect throughout.
During the Leadership training the Students practice:
🎓The Bow in - A leadership student is selected to open the class and practice their Confidence in their Public speaking.
🎓Warmup - You will notice during the Leadership class the instructor will select a few students to deliver and experience being in front of the room using the warmup.
🎓Triangulation - A training process that gives our students the experience of leading a small group while practicing their martial arts.
🎓Life Skills- During this part of class the kids are reading and learning from the Life Skills manual and sharing their stories.
🎓Hyper Musical forms - Well, Kids LOVE THEM. This is what we call Demo Team Training.
🎓Bow out - again is done by a Leadership student. More practice practice practice. Imagine 100 Hours of Public speaking training for your kids. Martial Arts style.
We teach our students how to use their Voice in a confident way with
🔥Words
🔥Tone
🔥Pace
...and how to recognize Confident Body Language and practice using it while speaking.
Join Us Today For This Exclusive Leadership Training At Karate John's Martial Arts
We're proud to offer a system of instruction that simply can't be matched. Our Leadership Program builds students up and gives them the best chance to succeed in all aspects of life.
Learn more or get started today! Just fill out the short form on your screen to learn more!
Our Leadership Program Classes Are Located In