Beginner Kids Martial Arts Old Classes Enrolling In February

Starting your child in the Kids Martial Arts classes at Karate John's Martial Arts is not just another after-school activity. This is an opportunity to help improve your child's attention span, ability to learn, and set them up for a successful life!
Our Kids Martial Arts classes will teach your children tools they need to succeed in life such as goal setting, discipline, hard work, courage, and leadership. No matter your child's experience level, we have a class that will help your child improve not only in the dojo, but at home and school as well.
Kids Martial Arts In Cicero Are Quite Possibly The Best Activity For Kids!
Karate John's Martial Arts Center offers classes for every age group to assure your child gets the attention they deserve.
Lil' Dragon Karate (ages 4-6)
Children this age are excited to learn martial arts but are still working on their fine motor skills, understanding of complex commands, and problem solving abilities that are necessary for entering our more advanced Karate program. The primary focus of the Lil' Dragon Program is to help students develop fundamentals and create a solid foundation to build upon as they get older. Our instructors work hard to provide the opportunity for children to blossom at their own pace.
Through repetition, fun drills, and exciting activities our Lil' Dragons will learn life skills such as cooperation, discipline, listening skills, and focus (skills they will need as they go through school).
At Karate John's, our basic karate program is for students wanting to discover if a Black Belt is a viable and desirable goal for them. This program allows students to attend class twice per week. After your child has dedicated themself to the goal of Black Belt, they will have the opportunity to experience advanced training in the Black Belt Club or the Masters Club. These groups are entitled to more classes per week, special Club classes and uniforms, and discounts.
Through training, students gain confidence and awareness. They also learn techniques for preventing and defending themselves against attacks and bullying. This is a character, self-esteem, and self-discipline building program.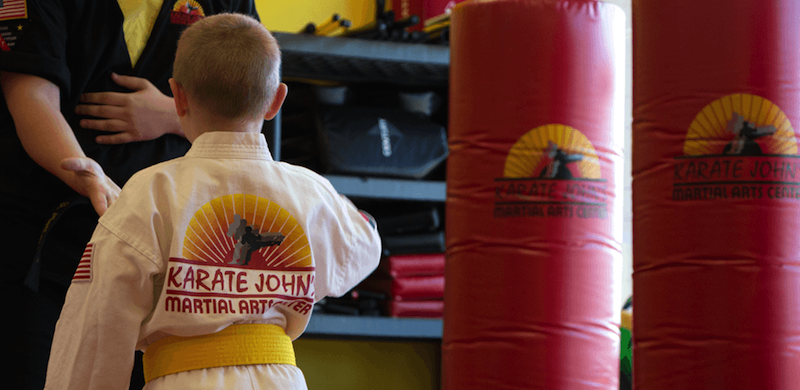 The Right Path Starts With Kids Martial Arts Classes In Cicero!
In addition to great Martial Arts skills, our professional staff will give your child a great foundation that includes goal-setting and confidence. We've put together a Martial Arts program for kids that teach important techniques and simple self-defense skills that will give your child the skills and confidence to face down life's toughest encounters!
Here are just a few other benefits your child will gain from our Kids Martial Arts classes:
Better listening skills that lead to great grades in school
A great way to get your child passionate about physical fitness
Improved attention span and ability to concentrate
Your child's self-respect and self-confidence will skyrocket
We'll teach your child self-defense and personal safety
Getting Started Is Easy!

There is no need to look any further than Karate John's Martial Arts for the best Kids Martial Arts classes for your child!
Simply fill out the short, no-obligation form on the side of this page to receive more information and to take advantage of this life-changing opportunity for your child!
Our Kids Martial Arts Old Classes Are Located In