Our Kids Martial Arts Classes Offer Incredible Character Development And Tons Of Fun!
Do you want your child to be a better student at school, a better listener at home and enjoy a positive, successful future?
Karate John's kids martial arts classes will teach your children the tools they need to succeed in life. Our martial arts classes go beyond just teaching karate skills. Your child will learn goal-setting, respect, self-discipline, focus and most importantly GAIN CONFIDENCE.

Through training, students will gain awareness and learn techniques for avoiding and preventing bullying and attacks. They will also learn self-defense skills for when they may find themselves in a dangerous situation.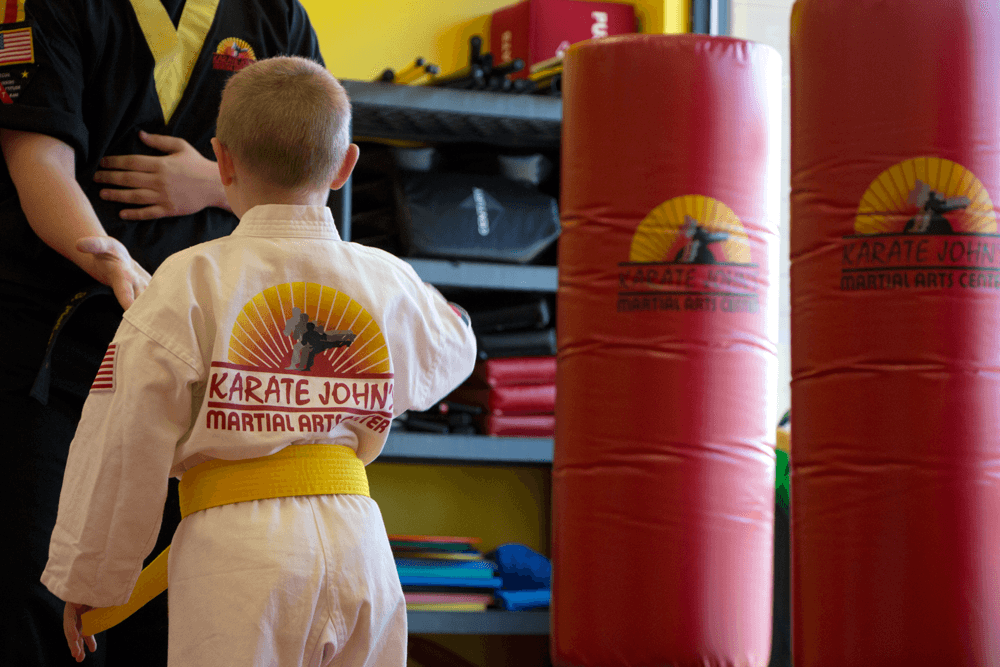 Our Kids Martial Arts Classes Can Impact Every Aspect Of Your Child's Life!
Children who have self-control issues or who have been labeled as a bully will find the positive, controlled environment of martial arts class as a healthy outlet for their stress, aggressive energy, and emotions.
Our karate classes are year round which help to build the consistency and structure kids need.
Here are just a few of the many other benefits of martial arts training at Karate John's:
Increase self-esteem
Improve self-confidence with a more positive "Yes I Can" attitude
Learn respect for self and for others
Gain physical fitness, balance, coordination, and flexibility through deliberate, repetitive motions
Build positive relationships with peers
Goal setting: our belt ranking system helps teach kids to set and achieve attainable goals and perseverance to work through any obstacle
Develop better listening skills and focus that lead to better performance in school
LIL' DRAGON PROGRAM (ages 4-6): 
Children this age are excited to learn martial arts but are still working on their fine motor skills, listening skills and following directions. The primary focus of the Lil' Dragon program is to have fun while developing the fundamental skills needed to graduate to the Junior Program. Through repetition and exciting skills drills, students will learn life and safety skills such as stranger awareness, cooperation, coordination, focus, exercise, fire safety, courtesy and much more.
Master's Club Program (ages 7+): 
Building upon the skills learned in the Lil' Dragon Program, students will continue to learn self-defense techniques and martial arts forms training, safe weapons, and sparring, and board-breaking.
Get Started Today With The Best Kids Martial Arts Classes In Cicero and Liverpool!
If you're looking for a great way to keep your child active and surround them with a great group of new friends, we've got the answer at Karate John's Martial Arts in Cicero. Our Kids Martial Arts Classes are designed to build students up and prepare them for anything life throws their way.
Fill out the short form to learn more or to get started today!
Our Kids Martial Arts Classes Are Located In